HERE IS THE SITE I BOUGHT THEM FROM- SORRY
http://www.cistamps.com
I made these checkbook covers for a swap that I am in and I noticed that there are no tutorials. So here's the one I made:
Supplies Needed:
1- 6 3\4 x 61/4 inch piece of coordinating cardstock
2- 3 x 6 inch pieces of patterned paper
scrap of white cardstock to stamp image onto
stamps and ink of your choice
scissors
adhesive (I used Duck Brand Double Stick Tape)
paper trimmer
vinyl checkbook covers (I bought mine for 80 cents at http://www.cistamps.com
)
Step 1:
Cut your patterned paper and cardstock to specified sizes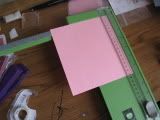 Step 2:
Glue the 6 x 3 inch pieces of paper to the 6 1/4 x 6 3/4 inch piece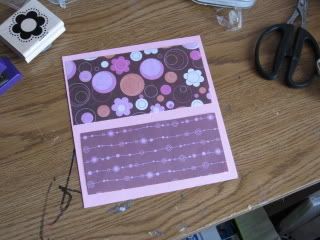 Step 3:
Stamp out the images that you would like to put on your checkbook cover. Cut the images out.
Step 4: Attach the images and add any embellishments now
Step 5: Put entire piece in vinyl cover and fold in half. Viola!